Turn Your Golf Tournament Awards Ceremony Into A Fundraising Powerhouse!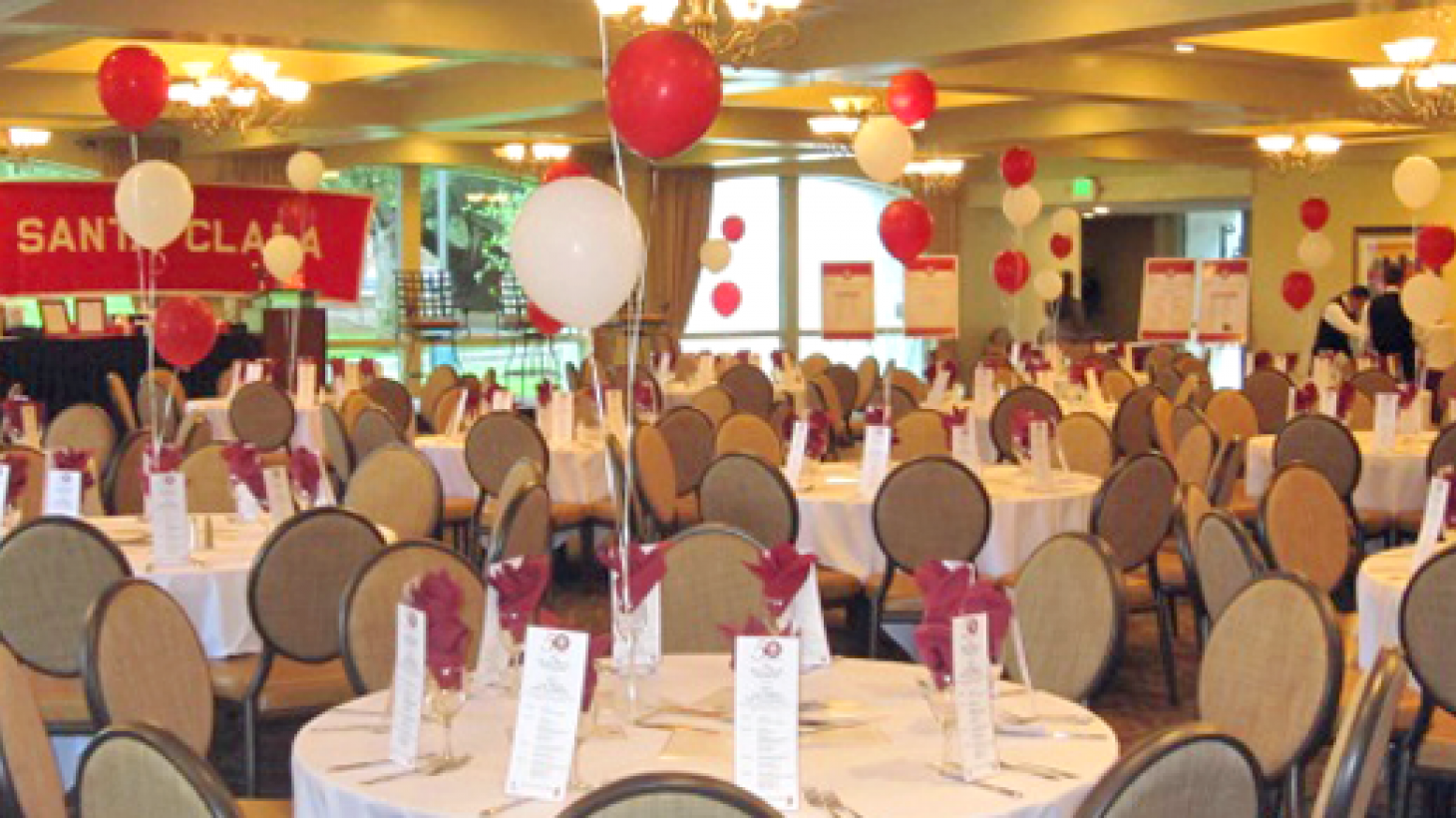 By Kimberly Senella, Brookside Golf Club, Pasadena, CA While there are countless ways at a golf tournament to raise funds at registration and on the course, don't forget to plan for what could be one of the largest fundraising assets of the event… the awards ceremony! A tournament awards ceremonyis the best—and often most underused—method of celebrating with golfers, sponsors, volunteers, and non-golfing guests. The ceremony banquet gives your players time to reflect on the day's activities and discussions, while recognizing and thanking everyone who has made a difference and supported your golf tournament. If you make sure that the last part of everyone's day is entertaining and engaging, you guarantee that your players will spread the word about your event and sign up again for next year's tournament.
Below we outline ideas to consider when planning your awards ceremony:
Find a Fun Theme
A theme is a great way to plan décor, centerpieces, a menu, and activities for the evening. Finding a fun theme also keeps the event fresh and different each year, and gives your players something to look forward to and talk about, and helps them remember the event for months to come.
Must-Have Music
Your music options are many, including employing a live band, a DJ, or even a pre-made playlist—but whatever you choose, you must have music! Play it in the background while your players network, or use it as dance music to amp up the fun and energetic atmosphere for your guests.
Spectacular Speeches & Guest Speakers
A strong MC is a key component to hosting a great ceremony, but it's also a good idea to add a guest speaker from your organization to the agenda, who can express why you are there fundraising and celebrating. If you're a charity or non-profit, you might be able to secure a celebrity keynote – this is a good time to check in with your sponsorship connections and volunteer network to see who knows whom and if you have a connection to someone that you could utilize.
Fancy Food & Bold Beverages
You can serve whatever type of food & beverage you want during the awards banquet. You can start with appetizers and cocktails, and then move to the lunch or dinner. Or you can skip right to the main course. Remember that your golfers are coming off a fun day on the course and will most likely be ready to eat! Consider all your options, including plated and served meals, buffets, specialty stations, live chefs, hosted bars, wine service, etc. Pick what will fill up your guests and work well with the scheduled program!
Awesome Activities & Great Games
It's always a good idea to offer non-golfing activities for the guests who aren't golfing inclined. These activities also help everyone unwind and relax after a day on the course. Some fun ideas are to prepare a few card tables, a dance floor, a mini putting contest, a demonstration, or a bag toss. These games can help draw guests over to the awards ceremony area, and keep their interest as everyone finishes their round.
Show a Slideshow
Slideshows are a great opportunity to highlight photos and high points of the day, as well as providing insight, stories, and accomplishments of your organization or sponsors. Make sure to work with your tournament organizer or golf course host to make sure you have the right A/V equipment set up (and set up prior to your awards ceremony) for a smooth transition from on-course play to post-tournament celebration.
Perfect Photo Opps
Photo opportunities allow you to feature guests and give them a "take home" memento that they can keep (and share with others) to remind them about your event long after they go home. You can work with a photo booth company or local photographer to create fun photo opps for your guests during the ceremony.
Sponsor & Volunteer Acknowledgement
Don't forget one of the most important aspects of your post-tournament banquet or awards ceremony: thanking your sponsors and volunteers! These are the heart and soul of your fundraiser, and recognition can be anything from a simple "shout-out" by your MC to a personalized plaque or gift for each individual.
Raffles, Silent or Live Auctions, Oh My!
No tournament awards ceremony should go without giving away some sort of prize! This is where hosting a raffle, silent auction, or live auction comes in. These are simple to set up and profitable for your organization. Often, you can secure donated or discounted prizes during the planning portion of your tournament, which increases your overall revenue. Raffle tickets can be sold prior to the event date, during registration, throughout the day, and even up until the beginning of the banquet. Silent auctions can take place at registration and while golfers and guests arrive for the celebration. If you decide to go with a live auction, an animated auctioneer is never dull and always helps liven the atmosphere.
Golf Tournament Prizes
Last but never least, remember to present the winners of the tournament (including all contest winners) with prizes! The winners should receive a trophy/prize/gift that they can display as proof of on-course victory and support of a worthwhile cause!